The system locks access for 15 minutes after 10 failed login attempts. If you've been locked out, wait for that time to expire and then reset your password.
If you forget your password, there's a quick way to get going again in Salsify.
Go to the Salsify login screen at http://app.salsify.com
Click Forgot? in the password box.
Provide the email address your account was set up with, and click Send Request.
A link should be sent to your email address that allows you to set a new password. If you don't receive the email, please use the Contact Us link above and we can help get you going again.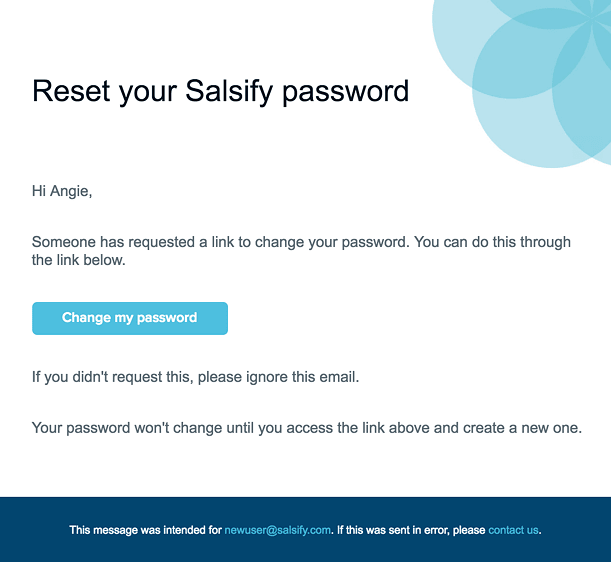 Click Change my password in the email you receive, and fill in the new password details.
Manage User Profile Settings
To access profile settings, click your current username in the top menu to open the administration menu and choose My Profile.
Change User Profile Name
To the right of the current user name, click the pencil icon to edit and save changes.
Change User Password
Below Password on the User Profile page is the option to edit and change a current user password.
Our password requirements are based on the ZXCVBN algorithm. This considers a set of password requirements such as:
lack of dictionary words
unique characters
presence of numbers and symbols
overall length
Hover over the "Need help?" tooltip to view tips on creating a strong password.
When the password strength bar fills 3/4 and turns green, your password is considered "Good" and can be saved. We recommend using a "Very strong" password.
Forgot your password? Click Here to learn more about resetting your password outside of Salsify.